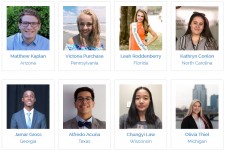 Fellows Will Work in Arizona, Florida, Georgia, Michigan, North Carolina, Pennsylvania, Texas, and Wisconsin
WASHINGTON, January 30, 2020 (Newswire.com) - ​​As the first voting of the 2020 election takes place, 8 YSA ServiceVote Fellows are beginning their work to register, educate, and turn out young voters this year.
Matthew Kaplan - Arizona
Matthew Kaplan is a recent graduate from Duke University where he studied education and social justice. He is the founder of The Be ONE Project, a community-building and anti-bullying organization that empowers middle school students to create for themselves positive and inclusive school cultures. Next year, Matthew is excited to serve with Teach for America as a middle school English teacher in Phoenix.
"Engaging youth in the political process, no matter their age, is crucial to our society and democracy." - Kathryn, North Carolina "Young people are so passionate, and that's why they have so much power right now." - Victoria, Pennsylvania

Victoria Purchase & Kathryn Conlon, ServiceVote Fellows
Leah Roddenberry - Florida
Leah is a junior at the University of Florida majoring in Family, Youth, and Community Sciences on the pre-law track. She founded IGNITE: Political Power in Every Young Woman, a student organization which encourages more women to run for leadership positions and political office. As Miss University of Florida 2019, Leah started the social impact initiative Be a LeadHER, to heighten interest in politics among women and youth.
Jamar Gross - Georgia
Jamar is a senior at Georgia Southwestern State University majoring in Business Management. Currently the City Manager and Human Resources Intern for the City of Americus, Jamar is a leader in the Census 2020 Complete Count Committee.
Olivia Thiel - Michigan
Olivia is a senior at Central Michigan University pursuing a degree in Political Science and Legal Studies. At Central Michigan, she helped organize events like "Greeks Clean the Streets" while serving as Phi Mu Fraternity's Risk Manager.
Kathryn Conlon - North Carolina
Kathryn is a junior at New Hanover High School in Wilmington, North Carolina. As the Branch Co-Director and Director of Communications for March for Our Lives Wilmington, she planned a peaceful 3,000-person march to end gun violence. Kathryn is a trained voter registration volunteer.
Victoria Purchase - Pennsylvania
Victoria is a junior at Villa Maria Academy High School in Erie, Pennsylvania where she is an active member of the school's student council, performing arts groups, and ROTC program. Victoria also founded her school's Women in Business Club.
Alfredo Acuna - Texas
Alfredo is a senior at Duncanville High School in Duncanville, Texas. As Student Council Parliamentarian, he serves as a liaison between students and the school's administrators. Through his role as President of Youth and Government, Alfredo has developed an extensive understanding of both national and state government.
Chungyi Law - Wisconsin
Chungyi Law is a junior at West High School in Madison, Wisconsin. She is also enrolled at Madison Area Technical College, where she manages the Green Club on their Goodman South Campus. Chungyi is an active volunteer in her community, serving with By Youth for Youth and leading philanthropic initiatives to raise funds for solar panels at her high school.
Source: Youth Service America
Share: