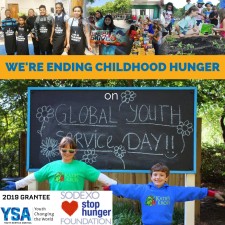 WASHINGTON, April 9, 2019 (Newswire.com) - One hundred and eleven young leaders have been awarded Sodexo Stop Hunger Foundation Youth Grants through Youth Service America (YSA). The grant will support youth-led community service projects that address the issue of childhood hunger.
One in six children in America is at risk of hunger. This is a problem that can be solved, and young people are a part of the solution. Youth-led activities will take place on Global Youth Service Day April 12-14, 2019 - the largest youth service and civic action event in the world.
One hundred and eleven young leaders across the country were recently awarded $400 grants to organize projects to help end childhood hunger. Grantees will educate and mobilize their peers around the issue to help end childhood hunger through awareness, service, advocacy and philanthropy activities. They join millions of other young people around the world as part of Global Youth Service Day, April 12–14, 2019. Celebrating 31 years of youth changing the world, Global Youth Service Day (GYSD) is the largest youth service and civic action event in the world.
"We want to empower today's youth because we believe they are the generation to end child hunger. We are supporting young leaders, from elementary to college students, who are dedicating their time to solving this crisis in one of the world's wealthiest countries," said Gerri Mason Hall, Sodexo Stop Hunger Foundation chair and chief human resources officer, Sodexo North America. "By investing in their efforts on Global Youth Service Day, we hope to ignite the passion in other young people to join the fight against child hunger."
This year's grantees include:
Project Name
Grantee
City
State
Sponsoring Organization
Garden-Fresh Produce Pickup-W.F. Killip Elementary
Brooke
Flagstaff
Arizona
W.F. Killip Elementary School PTO
End Childhood Hunger Now-ISKCON
Shreya
Tucson
Arizona
ISKCON
Packing the Pantry-Pulaski County Youth Services
Ciara
Little Rock
Arkansas
Pulaski County Youth Services
Hope Garden-A Bit of Hope Inc.
Brynn
Marion
Arkansas
Hope Garden-A Bit of Hope Inc.
Central Jr High Thrift Store-Central Junior High
Sydney
Springdale
Arkansas
Central Junior High School EAST Program
Sprouts 4 Kids-High Country 4-H
Annalisa
Anza
California
High Country 4-H
Peanut Butter and Jelly "No Empty Belly" Food Drive-University High School
Milan
Irvine
California
University High School
Promise Scholars Hunger Project
Miguel
Pacoima
California
Youth Policy Institute
Peanut Butter Jelly Time-Norte Vista High School
Audrey
Riverside
California
Norte Vista High School Global
Growing Art-Colorado Young Leaders
Gerson
Englewood
Colorado
Colorado Young Leaders
Cooking for Yourself: A Project to Fight Hunger
Jesse
Shelton
Connecticut
Southwestern AHEC Inc.
Fresh Produce for Every Child-Creation Kids Village
Naiya
Celebration
Florida
Creation Kids Village
"Sack Out Hunger"
Naudia
Century
Florida
Northview High School
Youth Planet Savers
Dexter
Fort White
Florida
Young Marines of North Central Florida
Fill the Pantry-Hurlburt Youth Programs
Taylor
Hurlburt Field
Florida
Hurlburt Youth Programs
Cleaning Cars for Cans-Eau Gallie High School BLAST program
Christian
Melbourne
Florida
Eau Gallie High School BLAST program
Food, Clothes, Toys, Flowers and Books Distribution-Joshua's Heart Foundation
Colin
Miami
Florida
Joshua's Heart Foundation
Single Stop's Students Garden-Miami Dade College
Quran
Miami
Florida
Miami Dade College
Ending Hunger via mobile pantry
Emanuel
Oviedo
Florida
Kids Need Support 2
Seeds for Sprouts
Ainsley
Tampa
Florida
Howard W. Blake High School
Youth Backpack Feeding Program
Kemaria
Albany
Georgia
Southwest Georgia Regional Interfaith Coalition
Backpack-a-thon-Working Together for Change
Christina
Alpharetta
Georgia
Working Together for Change
CMS Gardens
Natalie
Covington
Georgia
Cousins Middle School
NOA (Nourishing One Another)
Taylor
Douglasville
Georgia
Youth Villages AmeriCorps
Helping hands against hunger-PTA / Fulton Leadership Academy
Kedar
East Point
Georgia
Fulton Leadership Academy
Healthy Food, Healthy Goals
Andrew
Fayetteville
Georgia
Fayette Samaritans
Project S.E.R.V.E-Miller Grove High School PTSA
Lauryn
Lithonia
Georgia
Miller Grove High School PTSA
THE MAPSCC FAMILY, FOOD and FUN SPRING FESTIVAL-MAPSCC
Chole
Powder Springs
Georgia
M.A.P.S.: MABLETON AUSTELL POWDER SPRINGS
Urban Farm Initiative-SCAD Back40
Brooks
Savannah
Georgia
The Savannah College of Art and Design
Project G.R.A.P.E.
Eric
Stone Mountain
Georgia
Easton Banks Learning and Life Center Inc.
Savannah Youth Unlock Solutions to Hunger Through Urban Farming-912 Food Truck
Emma Claire
Thunderbolt
Georgia
Forsyth Farmers Market Inc.
Push -4- Kids-Crossroads Student Ministries
Jamal
Toccoa
Georgia
Crossroads Missionary Baptist Church (Crossroads Student Ministries)
Aloha to Breakfast Buddies!-Blue Zones Project
Haeri
Honolulu
Hawaii
Iolani School
Healthier Food, Healthier Families-University Laboratory School
Gia
Kaneohe
Hawaii
Bridge Club Hawaii
Move Out For Hunger-Olivet Nazarene University Food Recovery Network
Madeira
Bourbonnais
Illinois
Olivet Nazarene University
Feed The Streets #3
Gwendolyn
Chicago
Illinois
Englewood Dream Team
Supporting Impoverished Children in Indiana
Luke
Fishers
Indiana
Huggable Happiness Corp
Miss Virginia' s Food Pantry and St. Mary's Soup Kitchen-Windsong Pictures Inc.
Anna
Fort Wayne
Indiana
Windsong Pictures Inc.
Hoops For Hunger and Health Fair-DJ Center for Youth Inc.
Zaria
Indianapolis
Indiana
DJ Center for Youth Inc
Edggie Veggie Collaborative Outreach Program
Calla-Marie
South Bend
Indiana
Unity Gardens Inc.
Spring into Seeds – Drake University
Laura
Des Moines
Iowa
Drake University
Meals from the Heartland Packaging Event
Megan
Sumner
Iowa
Sumner-Fredericksburg FFA Chapter
Mobile Food Distribution Family Resource Bags-Kansas State University
Katie
Manhattan
Kansas
Kansas State University
Care Closet-Shawnee Heights High School
Bryce
TECUMSEH
Kansas
Shawnee Heights High School
Berea Kids Grow
Delaney
Berea
Kentucky
Glades Christian Church
The Edible Schoolyard
AugustLee
Louisville
Kentucky
Louisville Nature Center
Georgetown Central School Art in the Garden-Georgetown Central School
Lainey
Georgetown
Maine
Georgetown Central School
UMBC UNICEF Club's Food Scarcity Carnival-UMBC UNICEF Club
Fatimah
Baltimore
Maryland
UMBC UNICEF Club
Snack Packs-NCCF
Kade
Bethesda
Maryland
NCCF
Kokua Foods: Meeting the Need-Small Things Matter
Lana
Rockville
Maryland
Small Things Matter
Kokua Foods
Lillian
Silver Spring,
Maryland
TPMS – Difference Makers
Feeding the Hearts-Family Development and Samaritan Foundation
Damilola
Upper Marlboro
Maryland
Family Development and Samaritan Foundation
Moving by Grace
Maurice
Upper Marlboro
Maryland
First Impressions Enterprises Inc.
Food and Garden Class-Patrick J Kennedy Elementary School
Anna
Boston
Massachusetts
Patrick J. Kennedy Elementary School
This Little Light of Mine-Helen Keller School
Grace
Franklin
Massachusetts
Helen Keller Elementary School
Global Goal #2 No Hunger: Food Chain
Rebecca
Littleton
Massachusetts
Girl Scout Troop 61150
Build a Garden at Boland-FoodCorps/Edward P. Boland Elementary School
Kali
Springfield
Massachusetts
Edward P. Boland School
Stop Childhood Hunger-The Little Stars Foundation
Anna
Canton
Michigan
The Little Stars Foundation
Feeding our Future
Lucas
Gaylord
Michigan
Otsego County EMS
GYSD – Mobile Food Pantry
Kaelen / Maria
Monroe
Michigan
Monroe County Opportunity Program
Sustainable Garden Practice-Partridge Creek Farms
Austin
Negaunee
Michigan
Great Lakes Recovery Center
14th st Community Garden expansion
Christopher
Redford
Michigan
Peace Tree Parks
Campus Cupboard-Anoka-Ramsey Community College
Hinnah
Coon Rapids
Minnesota
ARCC Foundation
Kelliher Kits – Kelliher FCCLA
Triann
Kelliher
Minnesota
Kelliher Public School (FCCLA)
Gardening with Kids
Savannah
Moorhead
Minnesota
The Gifted Learning Project
Service Day Saturday-Harriet Bishop Elementary School
Shrey
Savage
Minnesota
Harriet Bishop Elementary School
Grow Healthy
Sophie
St Louis
Missouri
StLVolunTEENnation (volunteennation)
Spreading Nutrition
Tara
St. Louis
Missouri
Volunteen Nation
Food Can Drive!-Just For Kidz
Shristi
Wildwood
Missouri
Just For Kidz
Growing Food for the Community while helping 4H and Scouting
Shawn
Omaha
Nebraska
Aquatic Society of Omaha INC
Food: the Good, The Bad, The Ugly–the Movie!-Alchemists' Workshop
Carson
Henniker
New Hampshire
Alchemists' Workshop
Freshman F.I.R.S.T. Rise Against Hunger Campaign
Gizelle
Burlington
New Jersey
Burlington Township High School
Super Senior Strong!-Harvest Family Success
Kyle
flemington
New Jersey
Harvest Family Success
Operation Stop Hunger-American Legion Post 295
Bradley
Northfield
New Jersey
American Legion Post 295
Promise Garden-Girl Scouts Troop 80877
Gabriella
Piscataway
New Jersey
Girl Scout Troop 80877
Saving Mama D's Garden!-SCVTS
Alex
Woodstown
New Jersey
Salem County Vocational Technical Schools – Garden Club
5th Annual Knight Pack Walk and Food Drive
Alexis
Windsor
New York
Windsor Knight Pack
The Garden of Eating-Serve To Lead
Alex
Asheville
North Carolina
Serve To Lead
Food and Funds Drive for BackPack Buddies
William
Raleigh
North Carolina
The Food Drive Kids
FAN (Food/Fitness and Nutrition) Club
Casey
Winterville
North Carolina
Love A Sea Turtle
Makoti Community Garden
Vanessa
Makoti
North Dakota
Mountrail Pioneers 4-H Club
One Seed At A Time-Center for Community and Civic Engagement
Emily
Bowling Green
Ohio
Bowling Green State University
CFHS Fresh Farm Extension-Cuyahoga Falls High School
Bella
Cuyahoga Falls
Ohio
Cuyahoga Falls High School
AquaVeg-Heir Force Community School
Alan
Lima
Ohio
Heir Force Community School
CCYC Garden Cooking Club-Clinton County Youth Council
Darrian
Wilmington
Ohio
Clinton County Youth Council
Growing Food for Growing Kids
Shannon
Klamath
Oregon
Agri-Camp USA
The Plant that Keeps on Giving – Potato
Michele
Aliquippa
Pennsylvania
Hopewell High School
Zach's Salad Bar
Zach
Aliquippa
Pennsylvania
Hopewell High School
Children's Garden-Friends of Johnston Inc.
Olivia
Bethlehem
Pennsylvania
Friends of Johnston Inc.
Empty Bowls-Greater Johnstown High School Key Club
Emily
Johnstown
Pennsylvania
Greater Johnstown High School Key Club
A Community Health and Investment Project
Aliyah
Philadelphia
Pennsylvania
sadaqah4you Inc.
"We Need You" finding solutions to Childhood Hunger and Poverty-We Need You Inc.
Nakirah
Philadelphia
Pennsylvania
We Need You Inc.
Packing Party-I Heart Hungry Kids
Jackson
Charleston
South Carolina
I Heart Hungry Kids
Y.E.P. Hunger Elimination Initiative-An Invitation to Prayer Outreach Ministries
Bethany
Columbia
South Carolina

An Invitation to Prayer Outreach Ministries

Packing and Snacking -Claflin University
Kendall
Orangeburg
South Carolina
Claflin University
U-pick for Hunger-Katie's Krops
Addison
Summerville
South Carolina
Katie's Krops
Gardens to Give-Katie's Krops
Ian
Summerville
South Carolina
Katie's Krops
New Beginnings-Growing A Healthy End To Hunger-Katie's Krops
Katie
Summerville
South Carolina
Katie's Krops
Chosen For Change In Serving Our Community-Prophetic International Ministries
Taylor
Gallaway
Tennessee
Prophetic International Ministries
Growing, Harvesting, and Eating Oh My!-South Knoxville Elementary
Mikaya
Knoxville
Tennessee
South Knoxville Elementary
Stone Soup Project-Martin Enrichment Academy
London
Martin
Tennessee
Martin Housing Authority
Community Garden -Youth Enrichment Services
Isaiah
Austin
Texas
Any Baby Can
trays-to-tummies
Harsha
Dallas
Texas
Girl Scouts of Northeast Texas
Graced to Give
Nakendal
Dallas
Texas
I am Chasing Grace Inc.
Kans for Kids' Franklin Food Drive
Eleanor
El Paso
Texas
Franklin High School
Gardening Buddies-SGP Interact and Kindness Crew
Ximena
Grand Prairie
Texas
SGP Interact and Kindness Crew
J-Serve 2019
Leah
Houston
Texas
Evelyn Rubenstein Jewish Community Center
Matthew's Birthday Wish Backpack Program
Matthew
Spring
Texas
Matthew's Birthday Wish
NEST Nurtures
Shreyaa
Ashburn
Virginia
NEST4US
Backpack Buddies-Dan River Year AmeriCorps
Emily
Danville
Virginia
Dan River Year AmeriCorps
Horticultural Internship Program
Ronnaysha
Norfolk
Virginia
TWP-The Youth Movement
Evergreen Middle School ASB – Food For Thought Garden
Elias
Everett
Washington
Evergreen Middle School-ASB, Everett, WA
Focus on being fed, not hungry!
Patrick
Kenova
West Virginia
Kenova United Methodists Church
Founded in 1986, Youth Service America (YSA) is a nonprofit organization that supports youth to learn the skills they need to find their voice, take action and have an impact on critical challenges facing their communities. To measure its global impact in more than 100 countries, YSA aligns its outcomes with the United Nations 17 Sustainable Development Goals and the 21st Century Skills. To learn more or for more information, visit www.YSA.org and www.GYSD.org.
Sodexo Stop Hunger Foundation
The Sodexo Stop Hunger Foundation works with and through partners to help end childhood hunger in the United States because no child should be hungry today or risk being hungry again tomorrow. Sodexo Inc., which funds all administrative costs, and the nonprofit Sodexo Stop Hunger Foundation mobilize experts, innovators, volunteers and donors to feed children, to advocate for policies to end childhood hunger and to implement innovative potential solutions, particularly those designed by youth. Since 1999, the Foundation has leveraged nearly $32 million in grant dollars to help end childhood hunger. For more information, visit www.SodexoFoundation.org and www.SodexoUSA.com.
Source: Youth Service America
Share: