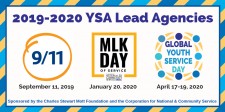 32 Nonprofits and Schools Nationwide Awarded Grants to Organize Community-Wide Initiatives to Engage Youth Volunteers on 9/11 Day of Service, MLK Day of Service, and Global Youth Service Day.
WASHINGTON, August 20, 2019 (Newswire.com) - Thirty-two nonprofits and schools will serve as Youth Service America Lead Agencies, mobilizing young people to lead volunteer service projects that help meet community needs on 9/11 Day of Service & Remembrance (Sept. 11, 2019), MLK Day of Service (Jan. 20, 2020), and Global Youth Service Day (April 17-19, 2020). These three days are officially designated as National Days of Service by the 2009 Serve America Act.
With grant funding from The Charles Stewart Mott Foundation and the Corporation for National and Community Service, along with training and support from YSA (Youth Service America), these organizations will build a culture in which all young people ages 5-25 have the opportunity and support to find their voice, take action and make an impact in their communities. As the official local organizers for these national days of service, Lead Agencies are a vital part of YSA's work to activate all youth, ages 5-25 - especially those in underserved communities who aren't usually asked to participate. The 2019-2020 Lead Agencies are:
California
Cathedral City - Student Creative Recycle Art Program (S.C.R.A.P.) Gallery
Los Angeles - Griffith STEAM Magnet Middle School
Riverside - Norte Vista High School
San Jose - Positive Alternative Recreation Teambuilding Impact (PART I) Program
Santa Cruz - Volunteer Center of Santa Cruz County
D.C
Washington - United Mission for Relief and Development
Florida
Fort Myers - Keep Lee County Beautiful, Inc.
Georgia
Adairsville - Adairsville Elementary School
Athens - Athens Land Trust
Douglasville - Youth Villages AmeriCorps
Jonesboro - Clayton County Youth Commission
Hawaii
Honolulu - Blue Zones Project Hawaii
Illinois
Chicago - Cradles to Crayons Chicago
Indiana
Indianapolis - ProAct Indy
Iowa
Des Moines - Community Youth Concepts
Maryland
Silver Spring - Difference Makers -Takoma Park Middle School
Massachusetts
Byfield - Triton Regional School District
Michigan
Detroit - My Sister's Keeper
Lansing - Michigan Community Service Commission
Minnesota
Roseville - Minnesota Family, Career and Community Leaders of America (FCCLA)
Mississippi
Starkville - Black Girls Rock of MS
New York
Staten Island - Staten Island Justice Center
North Dakota
Minot Air Force Base - Minot AFB Youth Programs
Oklahoma
Oklahoma City - John Marshall High School
Oregon
Portland - Northeast Emergency Food Program: Ecumenical Ministries of Oregon
South Carolina
Charleston - City of Charleston's Mayor's Office for Children, Youth and Families
Summerville - Katie's Krops
Texas
El Paso - Franklin High School
San Antonio - Give More HUGS
Washington
Spanaway – Bethel School District
"We are thrilled to partner with these organizations who will call on young people to serve and celebrate on these days of service," said Steven A. Culbertson, President and CEO of YSA. "We're currently leaving two-thirds of our young citizens out of actively participating in our democracy. Volunteering is a gateway to a lifetime of civic participation and days of service are on-ramps to volunteering, especially for first-time volunteers."
###
YSA (Youth Service America) believes that youth, communities and democracy thrive when we all work together for the common good. YSA is a leading global nonprofit that activates young people, ages 5-25, to find their voice, take action and acquire powerful civic and 21st Century skills as they solve problems facing their communities. YSA supports its activation campaigns – including September 11th National Day of Service & Remembrance, MLK Day of Service, and Global Youth Service Day - with grants, training and resources, and recognition programs for young people and their adult champions. Youth-led projects use Awareness, Service, Advocacy, and Philanthropy (ASAP) strategies to create social and environment change. For more information, visit www.YSA.org.
Honoring the history of September 11th by serving in your community helps transform 9/11 into a day of unity, empathy and service as an enduring and positive tribute to those lost and injured on 9/11/01 and the many who rose in service in response to the attacks, including first responders, recovery workers, volunteers and members of our military. www.YSA.org/911Day
Martin Luther King, Jr. Day of Service is Monday, Jan. 21, 2019. It is the only federal holiday observed as a national day of service – a "day on, not a day off" – and is an opportunity for people from all walks of life to work together to help solve our most pressing problems. The MLK Day of Service empowers individuals, bridges barriers and moves us closer to Dr. King's vision of a "Beloved Community."www.YSA.org/MLKDay
Celebrating 32 years of youth changing the world, Global Youth Service Day (GYSD) is the largest youth service and civic action event in the world and the only one that celebrates and creates opportunities for all youth ages 5-25, their communities and our democracy to thrive by working together for the common good. www.GYSD.org
Source: Youth Service America
Share: