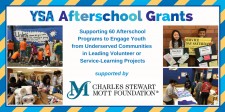 60 Programs Across 32 States + DC to Receive $500 Grants
WASHINGTON, October 24, 2019 (Newswire.com) - ​As the nation celebrates the 20th annual Lights On Afterschool rally today with more than 8,000 events in cities and town across the country, Youth Service America (YSA) is awarding grants to 60 afterschool programs in 32 states and Washington, D.C.
Supported by the Charles Stewart Mott Foundation, the grants will expand opportunities for students in afterschool programs — particularly those from low- and moderate-income communities — to learn civic and 21st century skills by leading community service or service-learning projects. Many grantees are planning activities for MLK Day of Service (January 20, 2020) and Global Youth Service Day (April 17-19, 2020). Nearly 9,000 students — 95% of whom are from underserved communities — will have the opportunity and support to find their voice, take action and make an impact in their schools and communities.
"We are thrilled to support afterschool programs that, in addition to serving youth, have committed to asking youth to serve their communities," said Steven A. Culbertson, president and CEO of YSA. "Studies show youth in underserved communities have fewer opportunities than their peers in more affluent communities to take part in service projects. Students participating in such projects benefit by learning and practicing the problem-solving skills they need to be successful in school, work, and life. A student cannot do an effective service project without practicing the skills of critical thinking, creativity, collaboration, and communication. Along with gaining job skills, this kind of civic engagement in childhood also leads to lifelong volunteering, voting, and philanthropy."
Grantees include:
IAMBK - Auburn, Alabama
Arthur and Eva Brown Foundation - Birmingham, Alabama
Boys and Girls Clubs of North Alabama - Huntsville, Alabama
UCCAN - Mesa, Arizona
Pensar Academy - Phoenix, Arizona
Arkansas Martin Luther King, Jr. Commission - Little Rock, Arkansas
Pulaski County Youth Services - Little Rock, Arkansas
West Valley Boys and Girls Club - Canoga Park, California
Heart and Hand Center - Denver, Colorado
New America School Lowry - Denver, Colorado
York International - Denver, Colorado
CT Eastern AHEC Inc. - Norwich, Connecticut
Sussex Central High School - Georgetown, Delaware
Kid Power, Inc. - Washington, District Of Columbia
Quality Life Center of Southwest Florida, Inc. - Fort Myers, Florida
Camp Fire Sunshine Central Florida - Lakeland, Florida
Rise Up 4 Change, Inc - Miami, Florida
3E Educational Services, LLC - Atlanta, Georgia
Dream It Forward Foundation - Sunny Side, Georgia
Garden Valley Teen Outreach - Garden Valley, Idaho
John Boner Neighborhood Centers - EDGE - Indianapolis, Indiana
Kentucky State University Promising Youth Center - Frankfort, Kentucky
Little Elegant Ladies/ The Etiquette Club - Houma, Louisiana
ReNEW Schaumburg Elementary - New Orleans, Louisiana
Portland Community Squash - Portland, Maine
The Complete Player Charity - Glen Burnie, Maryland
So What Else - Rockville, Maryland
Youth Volunteer Corps - Alpena, Michigan
Montcalm Teen Center - Carson City, Michigan
YMCA of the Greater Twin Cities - Minneapolis, Minnesota
SR1 (Scientific Research) - Ridgeland, Mississippi
Ms. Smith's Educational Services - Starkville, Mississippi
Cashman Middle School - Las Vegas, Nevada
Squires Community Partners / C.P. Squires E.S. - North Las Vegas, Nevada
STEAMpark, INC - Rumson, New Jersey
Boys and Girls Clubs of Central New Mexico - Albuquerque, New Mexico
South Valley Prep Charter School - Albuquerque, New Mexico
Children?s Aid/Curtis High School - Staten Island, New York
Bethel Enrichment Center - Kannapolis, North Carolina
LEAD Girls of NC Inc. - Winston Salem, North Carolina
YAMM - Winston-Salem, North Carolina
Perry High School - Perry, Ohio
Camp Fire Central Oregon - Bend, Oregon
Chester Upland School District - Chester, Pennsylvania
My New Journeys - Lancaster, Pennsylvania
Mother Maria Kaupas Center - Mount Carmel, Pennsylvania
Public Health Management Corporation - Philadelphia, Pennsylvania
Connect, Inc. - Washington, Pennsylvania
City of Chattanooga - Chattanooga, Tennessee
Carter County Drug Prevention - Elizabethton, Tennessee
Youth Impact - El Paso, Texas
YWCA El Paso del Norte Region - El Paso, Texas
NISD ACE Learning Tree /Rudder MS - San Antonio, Texas
Liberty Elementary CLC - Salt Lake City, Utah
Boys and Girls Clubs of the Virginia Peninsula - Newport News, Virginia
Community Preservation and Development Corporation - Reston, Virginia
Area Health Education Center - Bellingham, Washington
Yakima Police Athletic League - Yakima, Washington
Lincoln County Schools - Hamlin, West Virginia
Eastern Greenbrier Middle School - Ronceverte, West Virginia
Any staff, educator, mentor, parent, volunteer, or young person interested in partnering with YSA to add volunteer or service-learning activities to your afterschool program can sign up for more information at YSA.org/afterschool.
###
YSA (Youth Service America) believes that youth, communities and democracy thrive when we all work together for the common good. YSA is a leading global nonprofit that activates young people, ages 5-25, to find their voice, take action and acquire powerful civic and 21st Century skills as they solve problems facing their communities. YSA supports its activation campaigns – including September 11th National Day of Service & Remembrance, MLK Day of Service, and Global Youth Service Day - with grants, training and resources, and recognition programs for young people and their adult champions. Youth-led projects use Awareness, Service, Advocacy, and Philanthropy (ASAP) strategies to create social and environment change. For more information, visit www.YSA.org.
Source: Youth Service America
Share: