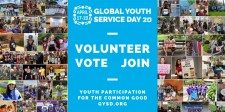 More than 1,100 youth-led activities are planned in all 50 states and 60 countries. Anyone can get involved at GYSD.org. Many service activities can be done virtually or at home - from helping meet immediate needs caused by the pandemic to choosing an at-home activity for your family to organizing a virtual project that engages others.
WASHINGTON, April 17, 2020 (Newswire.com) - ​​This weekend, April 17-19, Youth Service America (YSA) celebrates Global Youth Service Day, the largest youth service and civic action event in the world and the only one that celebrates and builds the capacity of all youth ages 5-25 to help our communities and democracy thrive by working together for the common good. On Global Youth Service Day, YSA calls on everyone to engage all young people to volunteer, vote, and join.
Take the #DoGoodFromHome Challenge - YSA has partnered with Design for Change and Hasbro to call on kids and teens to use their compassion and creativity to do acts of good from home. Take the #DoGoodFromHome Challenge and see how small acts can make a big difference. For every kind act shared through the #DoGoodFromHome Challenge, Hasbro will donate up to 25,000 toys and games to organizations providing care to the children of COVID-19 essential workers.

Respond to the Crisis - Volunteering and service are more important during a crisis than ever. Find 15 ideas for how you can help your community respond to the coronavirus crisis at YSA.org/covid.

Cheer on YSA Grantees - YSA awarded grants to 180 young leaders, schools, and nonprofits across the country to organize GYSD projects. Thirty-two YSA Lead Agencies are leading community coalitions, 60 YSA Afterschool Grantees are adding service to their programming, and 90 Sodexo Stop Hunger Foundation Youth Grantees are fighting childhood hunger. Follow @YouthService and #GYSD20 on social media to see them in action. YSA.org/grants

Get Civically Engaged - Get involved in the 2020 elections. Help register, educate, and get out the vote; advocate for progress on the issues you care about; and demand more youth voice and leadership in public decision-making between now and Election Day as part of YSA's ServiceVote 2020 campaign. Two immediate actions everyone can take this weekend are to register to vote and to complete the Census. YSA.org/vote
GYSD is powered by Youth Service America with funding from the Charles Stewart Mott Foundation, Sodexo Stop Hunger Foundation, and Hasbro.
YSA (Youth Service America) believes that youth, communities and democracy thrive when we all work together for the common good. YSA is a leading global nonprofit that activates young people, ages 5-25, to find their voice, take action and acquire powerful civic and 21st Century skills as they solve problems facing their communities. YSA supports its activation campaigns with grants, training and resources, and recognition programs for young people and their adult champions. Youth-led projects use Awareness, Service, Advocacy, and Philanthropy (ASAP) strategies to create social and environment change. www.YSA.org
Source: Youth Service America
Share: